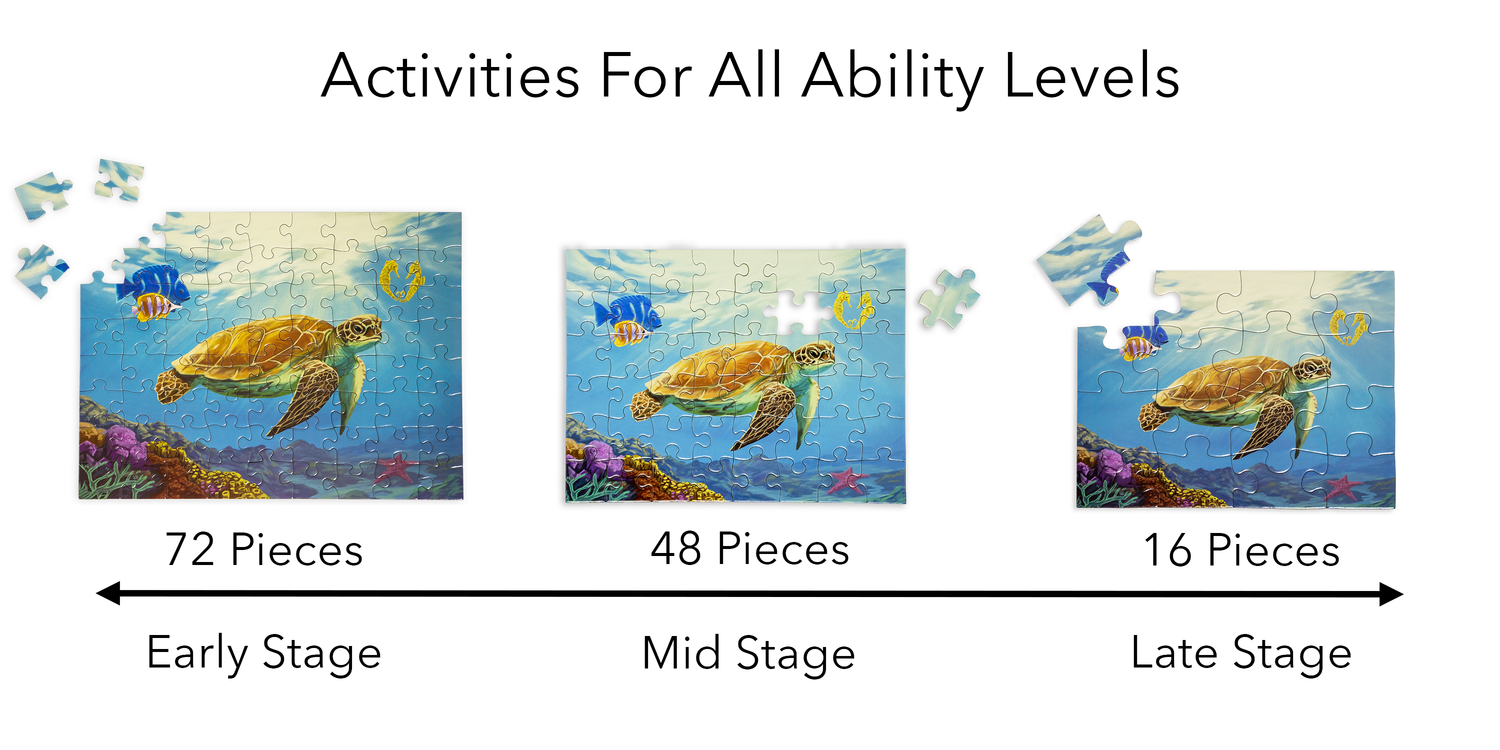 Collapsible content
What are GoodDay Puzzles?

GoodDay Puzzles are easy jigsaw puzzles for seniors with dementia.

Our age-appropriate activities are thoughtfully simple, and are designed to combat feelings of boredom, uncertainty, and isolation.
How do GoodDay Puzzles differ from standard jigsaws?

GoodDay Puzzles are specially designed for seniors with dementia. Our puzzles differ from traditional puzzles in a few notable ways:

1. Piece size
GoodDay Puzzles have ergonomic pieces that are twice as thick as standard puzzle pieces. Thick pieces are much easier to maneuver for users with arthritis and neuropathy.

2. Piece-count and design
Our puzzles are currently available in 16, 48, and 72 piece varieties. Traditional puzzles are often 500 to 1000 pieces, which can be overwhelming for people with dementia. Inversely, most puzzles with fewer than 100 pieces are made for kids, and are therefore childlike in nature. GoodDay Puzzles combine accessible piece counts with age-appropriate designs.

3. Build-In-Box design
GoodDay Puzzles fit inside the box fully assembled. This feature enables the box to act as a guide, allows the user to solve on their lap, and makes cleanup and transport a breeze!
Do the puzzles or packaging mention dementia?

No!

GoodDay Puzzles are designed to be fun regardless of ability level. It is our duty to protect the user's dignity.
How do I choose the correct piece style?

GoodDay Puzzles are available in 16-piece, 48-piece, and 72-piece varieties. Based on the stages of dementia, our general guidelines are as follows:

Early Stage: 72 Piece

Early / Mid Stage: 48 Piece

Mid / Late Stage: 16 Piece
Testimonials
"My mom and I so enjoyed putting this together - thank you for offering a puzzle we could work on together that challenged her mind and dexterity. She commented on the thickness of the pieces - which made it easier for her to work with the pieces. We have mod podged and framed the puzzle. Beautiful memories."

Shop "Autumn Picnic"
"It comes in a nice box for both storing the puzzle and allowing it to be put together in, so very little clean up, especially if the puzzle is completed. My client LOVES puzzles, so it's nice that she can continue them even with dementia"

Shop "Summer Bloom"
10% of every "Howie's Drive-In" sale is donated to the Alzheimer's Association

"I bought the Howie's Drive In and the Beach Day puzzles for my husband who has Parkinson's Disease. He has had it for over ten years and I noticed that he is experiencing more neurological problems. I thought the puzzles might help him to try to focus on something and help him challenge himself. The puzzles are great. The pieces are a nice size and it makes it easier for him to connect them. He enjoyed putting them together and he is so proud when they are completed. Now, he has something to do each day even if he is only able to do a few pieces at a time. I will definitely be looking to buy more puzzles for him!"

Shop "Howie's Drive-In"
"My mom is severely arthritic in her hands and has mild/medium dementia. I was worried that 16 pieces would be too difficult for her. It was not. It took her about 1/2 hour to complete. The puzzle pieces were thick enough for her to pick up pretty easily, and large enough for her to manipulate. The picture reminded her of her honeymoon, which led to a nice conversation between us."

Shop "Beach Day"
"These are good for my 90 year old mom. Keeps her busy and occupied, she's had several strokes, but something like this is very needed and fun for her."

Shop "Aquamarine"
"We utilize this puzzle at a psychiatric facility for youth. This puzzle is especially good for those on the spectrum and younger kiddos. It is high quality, durable, and thicker than the competitor brand. The quality of this puzzle has therapeutic tactile stimulation for some clients. We have used 50 piece puzzles for some kids in the past and they found it challenging. This puzzle gives some of our clients motivation and a feeling of pride once they finish. Furthermore, the design of the puzzle is vibrant and unique compared to the competitors. The finished puzzle also fits in the box which is a plus as the clean up is easy. Will continue to buy new designs. Keep up the good work."

Shop "Aurora Night"
"I got this for my dad who has dementia. He enjoyed doing an activity especially since it's hard to move around. The 16 was something he could work on independently. He seems to really enjoy it and would suggest it."

Shop "Golden Travel"
"A beautiful puzzle that allows a family member to do something she loves without making her feel incompetent. The pieces are larger and the design matches the picture which makes it easier for her to follow. If you have someone who is challenged, do not hesitate to get this for them. We have several from this company and they are wonderful!"

Shop "Cherry Dawn"